Colts should be getting more active in free agency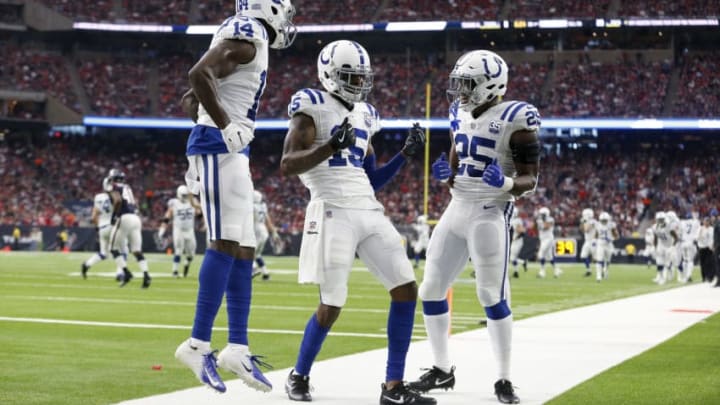 HOUSTON, TX - JANUARY 05: Dontrelle Inman #15 of the Indianapolis Colts celebrates with Marlon Mack #25 and Zach Pascal #14 after a touchdown reception in the second quarter against the Houston Texans during the Wild Card Round at NRG Stadium on January 5, 2019 in Houston, Texas. (Photo by Tim Warner/Getty Images) /
Chris Ballard is always patient in his approach in free agency, but he has been abnormally quiet this late into the process.
The Colts have only signed two outside free agents. They are Devin Funchess and Justin Houston. They were at the two biggest areas of need for sure, but they still need more. It seems as though Chris Ballard is biding his time longer than he should be.
Most of the great free agents are gone. But there are some backup level guys who are out there that can help football teams. The Colts should be looking at them to bring them in. I understand they liked their team from last year, but more moves should be made.
The draft is where the majority of the roster construction of this team will come from. We know that three years into the Ballard era. But there are some good players that can he had for good prices right around this time in free agency. Especially with OTA's fast approaching.
I know better than to question Ballard's approach when it comes to building the team and making them better. He has done much better much faster than anyone thought he could. But the Colts are just sitting on piles of money waiting to be used. They can find a multitude of guys to take it.
They can find players not just to take up the money, but be on value deals when they do. But Ballard seems content to slow-play his hand as he has done all offseason. As a fan, it is frustrating to see him do this. But I also understand it will ultimately end up being the right move.