Former Colts RB Edgerrin James named HOF semifinalist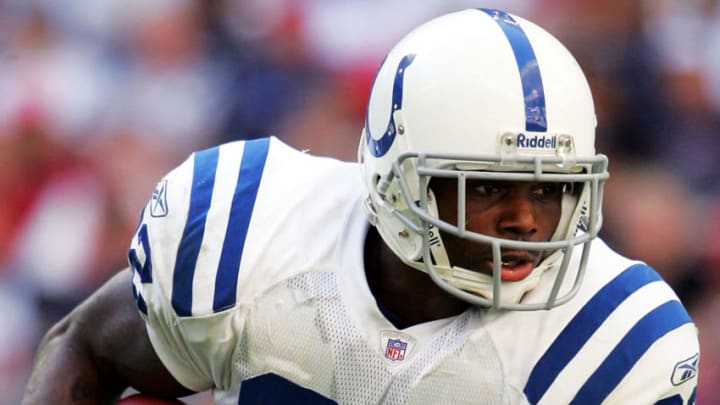 HOUSTON - DECEMBER 12: Edgerrin James #32 of the Indianapolis Colts carries the ball against the Houston Texans December 12, 2004 at Reliant Stadium in Houston, Texas. (Photo by Matthew Stockman/Getty Images) /
Former first round pick Edgerrin James has been named a Pro Football Hall of Fame semifinalist yet again. Is this the year he gets into the hall?
Edgerrin James has once again been named as a Hall of Fame semifinalist. This is the fifth time that he has been named to the semifinalist list. He is among 25 other players who could be part of the Hall of Fame class of 2019.
James was a first round pick of the Colts back in 1999 and formed a three-headed monster with Peyton Manning and Marvin Harrison. He rushed for over 1500 yards as a rookie and paired that with 13 touchdowns. He followed it up the next year with a career high 1709 rushing yards.
James was named first team All Pro once as a rookie, and was named to the Pro Bowl four times. He achieved all of those accolades as a member of the Colts. He rushed for over 1000 yards seven times in his illustrious career, and had over 10 rushing touchdowns four times.
The competition James faces to get in is very steep. Only a maximum of eight people can be inducted into one class. James faces some good players, including Tony Gonzalez, John Lynch, Issac Bruce, and Jimmy Johnson. It will be tough to beat some of these players.
James is the all-time Colts leader in rushing attempts, yards and touchdowns. That is no small feat. He will get hard consideration to be put in this year. There is a chance that James will have to wait a little while to get in because there are so many good players in this year's semifinal list.
Hopefully James gets the call. He will know if he is a finalist by early January, and then would know if he is a member of the Hall of Fame the day before the Super Bowl.