Colts vs. Bills: Game Predictions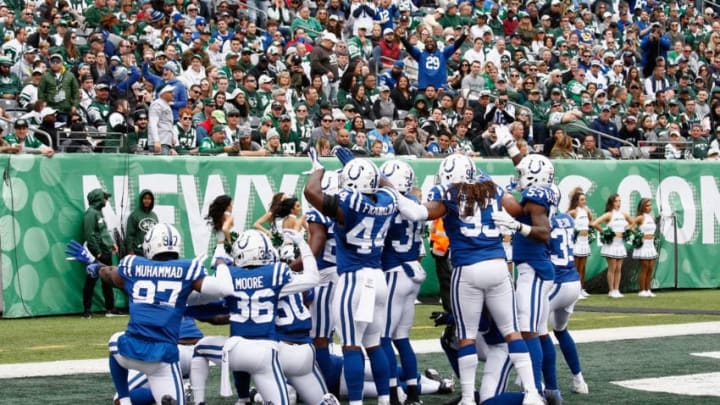 EAST RUTHERFORD, NJ - OCTOBER 14: The Indianapolis Colts taunt the fans as they take on the New York Jets during the first quarter at MetLife Stadium on October 14, 2018 in East Rutherford, New Jersey. (Photo by Jeff Zelevansky/Getty Images) /
The Colts and Bills face off on Sunday in a game both teams think they can win. Here is how I see the game breaking down, and who will emerge victorious.
The Colts play one of their easiest games on their schedule on Sunday against the Bills. They play this game at home as well, against a backup quarterback. This game is perfectly set up for a Colts win, but that doesn't mean that's the way it'll go.
Both teams will play hard. Effort hasn't been the issue for either of these teams this season. It's been talent and concentration. But the Colts have more talent than the Bills do. It's just a matter of whether that talent can put together a complete game or not.
T.Y. Hilton should play in this game, and that will help the Indy passing game immensely. Having that deep threat available will allow Andrew Luck to take more shots down the field. They know that the other receivers are still having issues catching the ball, so maybe he will get more targets.
I expect the Colts to be able to run the ball well in this game. Marlon Mack will get more touches early, and Luck will have to throw the ball less because of the success of the run game. Luck has had to throw the ball way too many times this season.
The defense should play really well too. Anderson isn't a great quarterback and was the third stringer up until this week. He probably isn't as ingrained in this offense as Buffalo needs him to be. That will to lead to some issues.
Prediction: Colts 31 Bills 17
This is the game the Colts get back on track. The offense moves the ball consistently, and the defense forces turnovers to get the ball good spots. Both units play well enough to get a sizable victory against a bad team.
I've been wrong on my predictions before, but this is one I'm pretty confident in.