Dissecting Andrew Luck's Preseason so far for Colts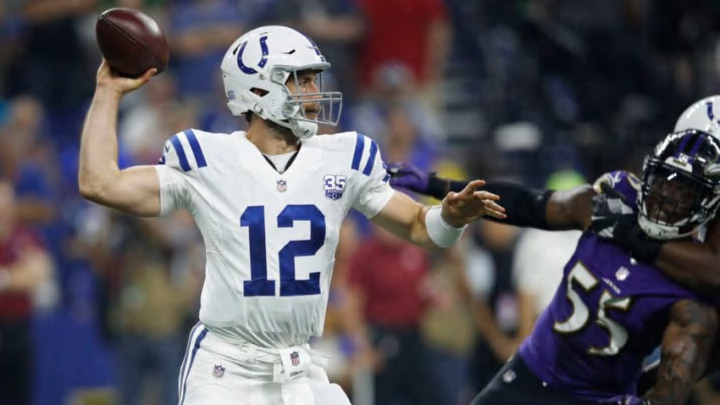 INDIANAPOLIS, IN - AUGUST 20: Andrew Luck #12 of the Indianapolis Colts throws a pass in the first quarter of a preseason game against the Baltimore Ravens at Lucas Oil Stadium on August 20, 2018 in Indianapolis, Indiana. (Photo by Joe Robbins/Getty Images) /
Now that the Colts have played half of their preseason games, it's fair to start doing some evaluations. To that effect, how has Andrew Luck performed so far coming back from injury?
The number one thing Colts fans wanted to see this preseason was the progress of Andrew Luck. He missed all of last season with a shoulder injury. The Colts wanted to see how he would respond to playing in a game situation again, and so far the the results have been mixed.
In game one, Luck looked comfortable. He was completing passes and moving around in the pocket well. He did a good job going through his progressions. While he didn't throw a touchdown pass, he also didn't turn the ball over. He also made some throws while on the run.
On Monday night, things were a different story. Luck looked bad and didn't make the throws he made in the first game. He had a horrendous interception in the red zone. Honestly, I'm still not sure who he was trying to hit on that throw.
The most troubling thing about his performance against Baltimore is that he didn't take care of the ball. That turnover was really poor and it was in the one area of the field you can't turn it over. He also still hasn't thrown the ball down the field yet, which is the last box he needs to check off.
There are still two more preseason games to be played. Luck will probably take part in both of them. He still has a bunch of rust to knock off, which is understandable. Colts fans shouldn't worry quite yet, but he still has to show more consistency for them to be comfortable with where he's at.
Preseason doesn't matter in terms of wins and losses, but Luck's progress is something that needs to be monitored until the regular season starts.