2017 Rookie Class Grades: Rigoberto Sanchez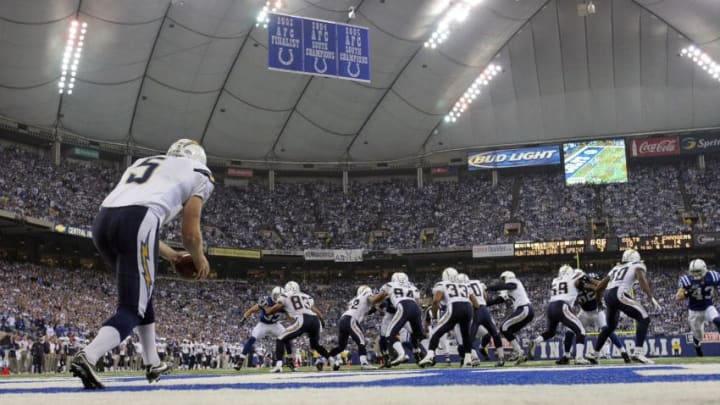 INDIANAPOLIS - JANUARY 13: Punter Mike Scifres /
As we continue to recap the 2017 season, here is another post on our rookies. Rigoberto Sanchez took over as the Colts punter this season, so how well did he do?
Punter may not be the sexiest position in football, but it is one of the more under-rated in terms of importance. The Colts had one of the best punters in the league in Pat McAfee for the last few years, but he abruptly retired last off-season at a still young age of 29.
The Colts initially signed Jeff Locke, the former punter for the Minnesota Vikings. But in training camp, Locke was beaten out by the rookie Sanchez. That led to Locke being released and Sanchez being the punter. He also handled kick-off duties throughout the year.
Fina Grade:
Punter may be a hard position to quantify in numbers, but certain numbers are important. Sanchez downed 28 punts inside the 20 yard line, which is huge for field position. For reference, McAfee had 19 punts downed inside the 20 in his last season with the Colts. If the Colts are able to move the ball with more success, Sanchez should be able to down even more punts inside the 20.
Sanchez also had an average punt of 44.8 yards, with a net average of 42.6 yards. This means that the Colts didn't allow returners much room in running back punts. This allows the Colts to prevent teams from having long run-backs and getting good field position.
Sanchez does not have the leg strength that McAfee had though. He had a long of 61 this past year, while McAfee's long in the 2016 season was 74. Sanchez seems to value consistency and accuracy over power.
Next: Colts Possible Free Agent Targets: Wide Receiver Albert Wilson
Sanchez had a good first year as a punter and a kick-off man. He did what the Colts asked of him, and should only get better with more time in the NFL.