Colts can't Seem to Find Themselves in the Fourth Quarter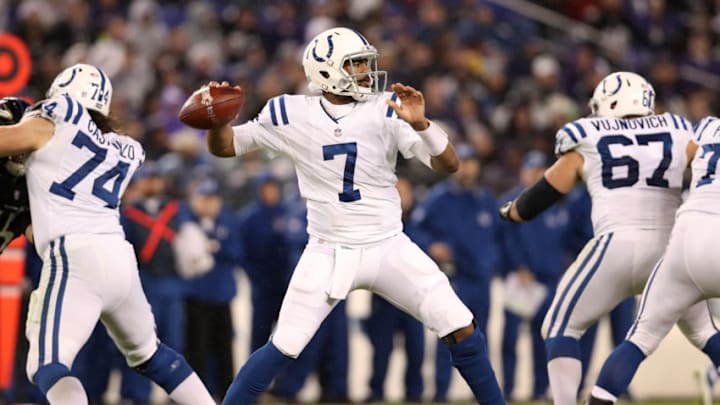 BALTIMORE, MD - DECEMBER 23: Quarterback Jacoby Brissett /
It's been a theme the entire season: the Colts stink in the fourth quarter. But is there one thing that needs fixed, or is it a host of problems?
The Colts have not been a good fourth quarter team this year. The offense sputters, the defense caves in, and the team on the other side always seems to have what it takes to win. It seems as though the Colts have a monkey that they can't get rid of.
But is it just one thing that haunts the Colts, or is it a confluence of issues that come to a head in the most important quarter of the game?
The Colts have cratered on defense all year, but it has been much worse in the fourth quarter of games. The Colts have given up five fourth quarter leads this season, and have lost two games in overtime as well. The defense continues to give up yards and points in the most critical time of the game.
The offense hasn't done much better. The Colts have been stagnant in crunch time. They don't move the ball effectively because they are put in situations where their opponents know they have to throw the ball. This allows defenses to just pin their ears back and rush at Jacoby Brissett. This comes back to the lack of aggressiveness early on in the game that  can keep an opposing defense off-balance.
If the Colts have a 4th quarter lead, they seem to shrivel up the playbook and run their most conservative plays, as if afraid to make a mistake. Good teams run their offense no matter what the situation. Good teams are able to stay aggressive throughout a game. The Colts have not.
So what can be done to fix the fourth quarter woes? A change in play-calling early on in the game might be one thing to do. Staying aggressive throughout the entire game could lead the Colts to move the ball more effectively in crunch time.
Another remedy might to bring more pressure from the linebackers. The Colts don't blitz often because their back seven is banged up. But a good pass rush can help alleviate the pressure the secondary feels.
Next: Colts Free Agent Decisions: Donte Moncrief
With only one game left, the Colts will have to try to fix their fourth quarter woes next season. An improvement in the fourth quarter will undoubtedly lead to more Colt wins.