As Bad as Season Began, Colts Face Favorable Schedule in Next 4 Games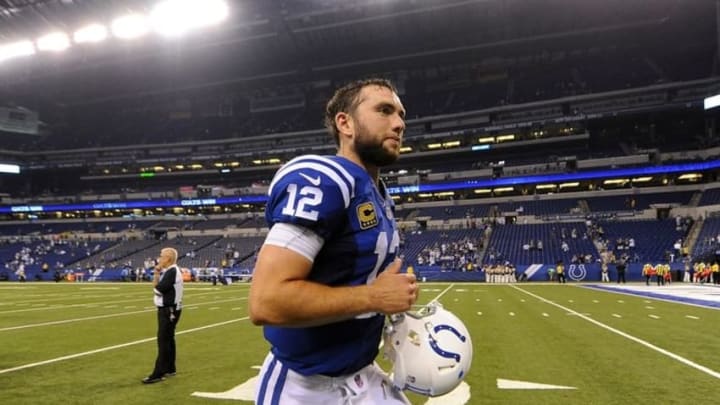 Sep 25, 2016; Indianapolis, IN, USA; Indianapolis Colts quarterback Andrew Luck (12) runs off the field after defeating the San Diego Chargers 26-22 at Lucas Oil Stadium. Mandatory Credit: Thomas J. Russo-USA TODAY Sports /
While the team began the year 0-2 for the 3rd consecutive season, the Indianapolis Colts (1-2) could start a significant win streak with a favorable schedule coming up.
Specifically, the franchise faces the Jacksonville Jaguars [London] (0-3), Chicago Bears (0-3), at Houston Texans (2-1, but now without All-Pro defensive captain J.J. Watt), and at Tennessee Titans (2-1) in their next 4 games, meaning that the team has a realistic opportunity to go 5-2 from here on out.
Dec 14, 2014; Indianapolis, IN, USA; Indianapolis Colts quarterback Andrew Luck (12) shakes hands with Houston Texans defensive end J.J. Watt (99) after their game at Lucas Oil Stadium. The Indianapolis Colts won, 17-10 to clinch the AFC South Division. Mandatory Credit: Thomas J. Russo-USA TODAY Sports /
Granted, no NFL team is really a pushover these days, and the Colts haven't exactly been a juggernaut in recent weeks–so nothing is guaranteed. In fact, it should be far from it.
That being said, the team does have at least a reasonable chance of reaching 5-2 after this upcoming 4-week stint of their schedule.
The team has to take advantage of this soft portion of their schedule too, as the next batch features 3 out of 4 games against the Kansas City Chiefs (2-1), at Green Bay Packers (2-1), and Pittsburgh Steelers (2-1)–who collectively figure to be much tougher opponents.
It can't be understated how much of an impact Watt's potentially season-ending back injury could have on the state of the AFC South, as he's one of the most dominant players in football and a game-changer when fully healthy:
With the Colts currently chasing the Houston Texans by one game atop the AFC South, it very well could be the difference for supremacy of the division going forward and thus, in ultimately making the playoffs.
The Colts need to capitalize.
With a late game win against the San Diego Chargers this past weekend, as well as their defense finally starting to get healthy, it could be the sign of better things to come for the franchise–at least in terms of their short-term schedule.