Report: Colts Scout Calgary WR Rashaun Simonise Before NFL Supplemental Draft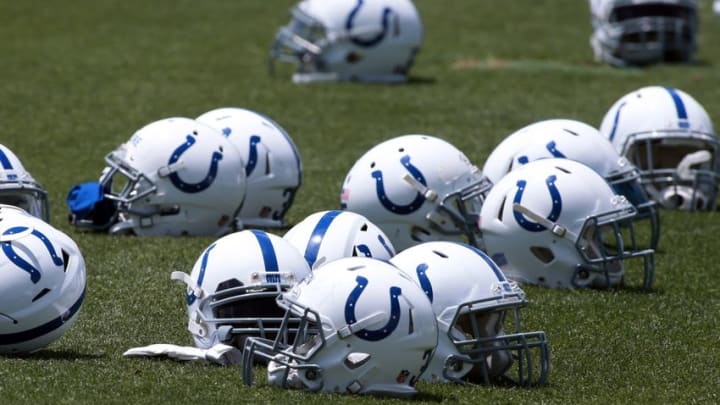 Jun 7, 2016; Indianapolis, IN, USA; Indianapolis Colts lay their helmets on the field as they stretch during mini camp at the Indiana Farm Bureau Center. Mandatory Credit: Brian Spurlock-USA TODAY Sports /
According to NFL Draft Diamonds, the Indianapolis Colts have shown interest in former University of Calgary wide receiver Rashaun Simonise ahead of Thursday's NFL Supplemental Draft:
The former University of Calgary Dinos wideout reportedly worked out for 6 NFL scouts on Monday for his pro day–posting decent measurables, and apparently the Colts were among those teams also in attendance:
Having earlier been declared ineligible for the 2016 season with the University of Calgary due to academics, the 6'5″, 190 pound wide receiver elected to enter the NFL's Supplemental Draft.
It comes after Simonise caught 51 receptions for 1,079 receiving yards and tied for a nation-leading 11 touchdown receptions in 8 games during his junior season, earning CIS 1st-Team All-American honors.
After being declared ineligible, it's also worth noting that Simonise had a short stint with the Chicago Eagles of the Champions Indoor Football League, catching 11 receptions for 105 receiving yards and 2 touchdown receptions in 5 games. He then proceeded to practice two weeks with the Jacksonville Sharks of the Arena Football League before shifting his focus to prepare for the NFL's Supplemental Draft.
Some scouts are at least somewhat intrigued with his long-term potential at the NFL level:
""He has some raw tools. Best thing he does is track the deep ball. He has some height and catch radius. Long strider, not a real sudden player, but there are some vertical traits of intrigue," an NFL scouts says."He's a man amongst boys on this [CIS] level. I'd equate it to watching lower level FCS or a [NCAA] Division II player dominate. Some of those guys get to the NFL," said another talent evaluator."
The Colts have long been enamored with height and speed prospects at the wide receiver position, and there is at least one open spot on the depth chart–maybe two, behind T.Y. Hilton, Donte Moncrief, Phillip Dorsett, and Quan Bray–who shined as a special teams returnman.
However, as CBS Sports Rob Rang points out, Simonise is still a bit raw in his route-running and has played a different style of receiving north of the border:
""Simonise used his combination of height and build-up speed to terrorize defenses in 2015, scoring his 11 touchdown in just eight games," writes Rang. "However, he is quite raw as a route runner, with much of his production coming via verticals and quick screens. Simonise shows vision, agility and strength to break tackles but just average balance and explosion out of his cuts.""The change in physicality in the NFL will be something else scouts will have to take into account with Simonise," adds Rang. "The rules in Canadian football are different than those in the NCAA and the NFL, allowing receivers to get a running start as the ball is snapped. As such, Simonise has very little experience dealing with press coverage, which would hamper the long strider's ability to get to top speed quickly.""
While Simonise wasn't overly fast at his pro day, he's apparently run an unofficial 4.46-4.48 forty time previously, so he may play a bit faster than his recorded forty time actually indicates.
Anyways, here's his junior highlight reel while with the University of Calgary Dinos for your viewing pleasure:
If the Colts were to select Simonise or any of the other remaining 5 prospects for that matter in the NFL's Supplemental Draft, the team would forfeit their choice in the corresponding round of next year's NFL Draft.