Colts select Maine OLB Trevor Bates in seventh round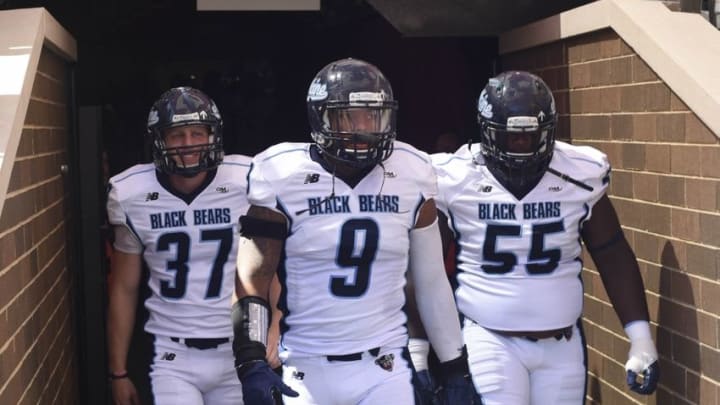 Sep 5, 2015; Boston, MA, USA; Maine Black Bears place kicker Sean Decloux (37), defensive end Trevor Bates (9), and offensive lineman Bruce Johnson (55) walk onto the field prior to their game against the Boston College Eagles at Alumni Stadium. Mandatory Credit: Bob DeChiara-USA TODAY Sports /
The Colts kept their focus on defense taking an outside linebacker with their first of two picks in the seventh round of the Draft.
With the 239th pick in the NFL Draft, the Colts selected Maine outside linebacker Trevor Bates. The Colts are thin at this position, but being a seventh round selection, Bates will have an uphill battle just to make the roster on special teams.
The Maine Black Bears play in the Colonial Athletic Association, a Division I FCS team. Bates was second on the team with 57 tackles but led the team in sacks with 7.5. Bates also had 14.5 tackles for loss last season. Bates played defensive end in college but will convert to outside linebacker in the NFL.
He is a speed rusher at his best when he's rushing upfield after the quarterback. Bates has a tendency to get blown up at the point of attack if his speed hasn't eluded a blocker. He has the size and tools to be a productive player in the NFL, but Bates will have his work cut out for him.
The Colts have a desperate need for pass rush, but it unfortunately comes in a year when there just aren't nearly enough EDGE players in this draft. They have another pick coming up in the seventh round, so stay tuned for more.