Breaking down the Colts 2016 schedule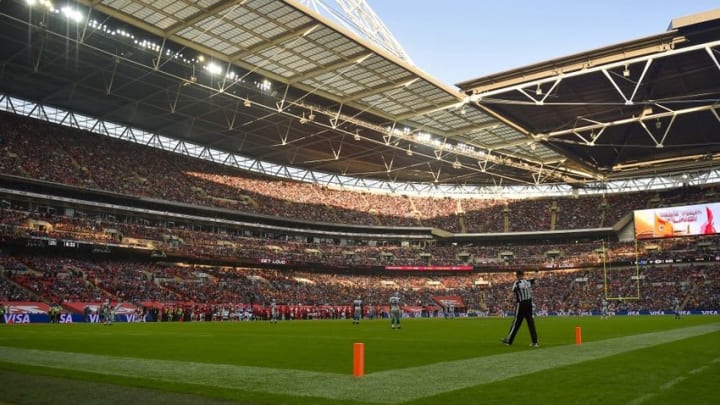 Nov 01, 2015; London, United Kingdom; General view of the field during the second half of the game between the Detroit Lions and the Kansas City Chiefs at Wembley Stadium. Mandatory Credit: Steve Flynn-USA TODAY Sports /
Sep 21, 2015; Indianapolis, IN, USA; Indianapolis Colts receiver Phillip Dorsett (15) and corner back Darrelle Revis (24) go for a pass at Lucas Oil Stadium. Mandatory Credit: Thomas J. Russo-USA TODAY Sports /
Week 13 – Colts at Jets
The Jets managed to beat the Colts in Indianapolis last season as the Colts struggled to figure out their offense early in the year. New York finished at 10-6 and just outside of the playoffs in 2015. While they have a great defense, they need to work out a deal with Ryan Fitzpatrick if they want to be able to move the ball.
Couple that with Chris Ivory moving on the Jacksonville and the Jets have a lot of question marks on offense right now. But if the defense remains in the top five next season, their offense won't be nearly as much of a concern.
Week 14 – Texans at Colts
Again, we've covered the Texans already. The Colts need to start a new streak of keeping the Texans winless in Indianapolis. This could easily be a game that determines the division next year.
Week 15 – Colts at Vikings
The Vikings are a tough team that is getting better. They won the NFC North last season with an 11-5 record, but lost in the playoffs due to bitter cold and their kicker missing a chip shot. Facing off against Adrian Peterson is never fun, but he's 31 and could easily be running on fumes by this point in the year.
Minnesota is also breaking in their new home, US Bank Stadium. The Vikings season will go as far as Teddy Bridgewater lets them (or AP's legs). They have a very good and improving defense and late season road games are always dangerous.
Week 16 – Colts at Raiders
The Raiders are another "solid and improving" team in the NFL. There were high expectations heading into last year and a 7-9 record was underwhelming. There are a lot of young pieces on the roster, like QB Derek Carr, WR Amari Cooper, and edge rusher Khalil Mack.
A game like this so late in the season will depend on what both teams have to play for at this point. Are both battling for a playoff spot? Does one have everything locked up or have they been eliminated? Regardless, the Raiders are moving up and have a team that could make some noise in 2016.
Week 17 – Jaguars at Colts
We talked about the Jags already, who despite seeming to improve were still 5-11 last year. The Texans will face the Titans in Week 17 and this could become a game that will determine who wins the AFC South.